Creating artwork is a process like any that includes concept, editing and revision. I thought it would be fun to give an inside look at my process for creating the recent Shanah Tovah holiday greeting illustration.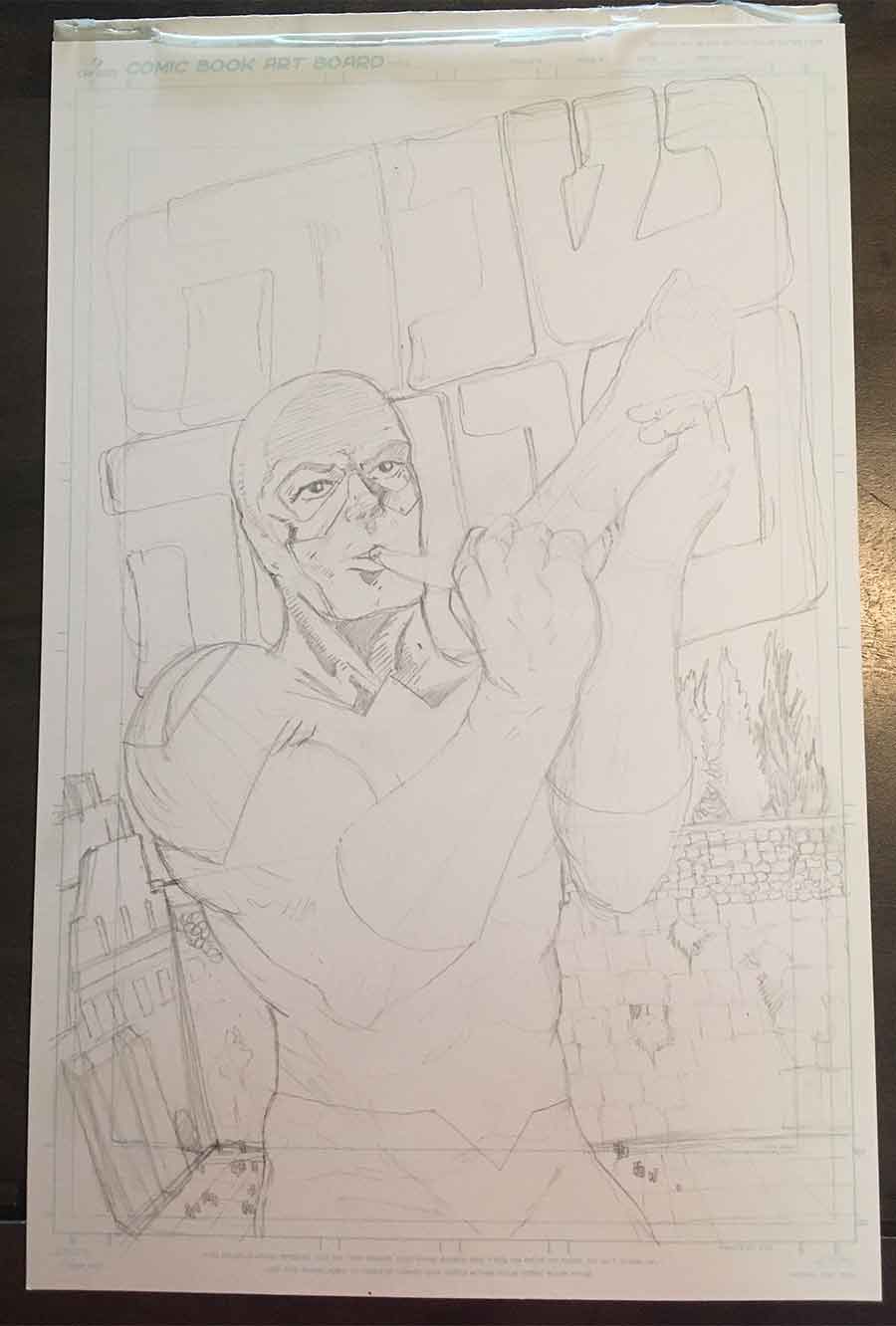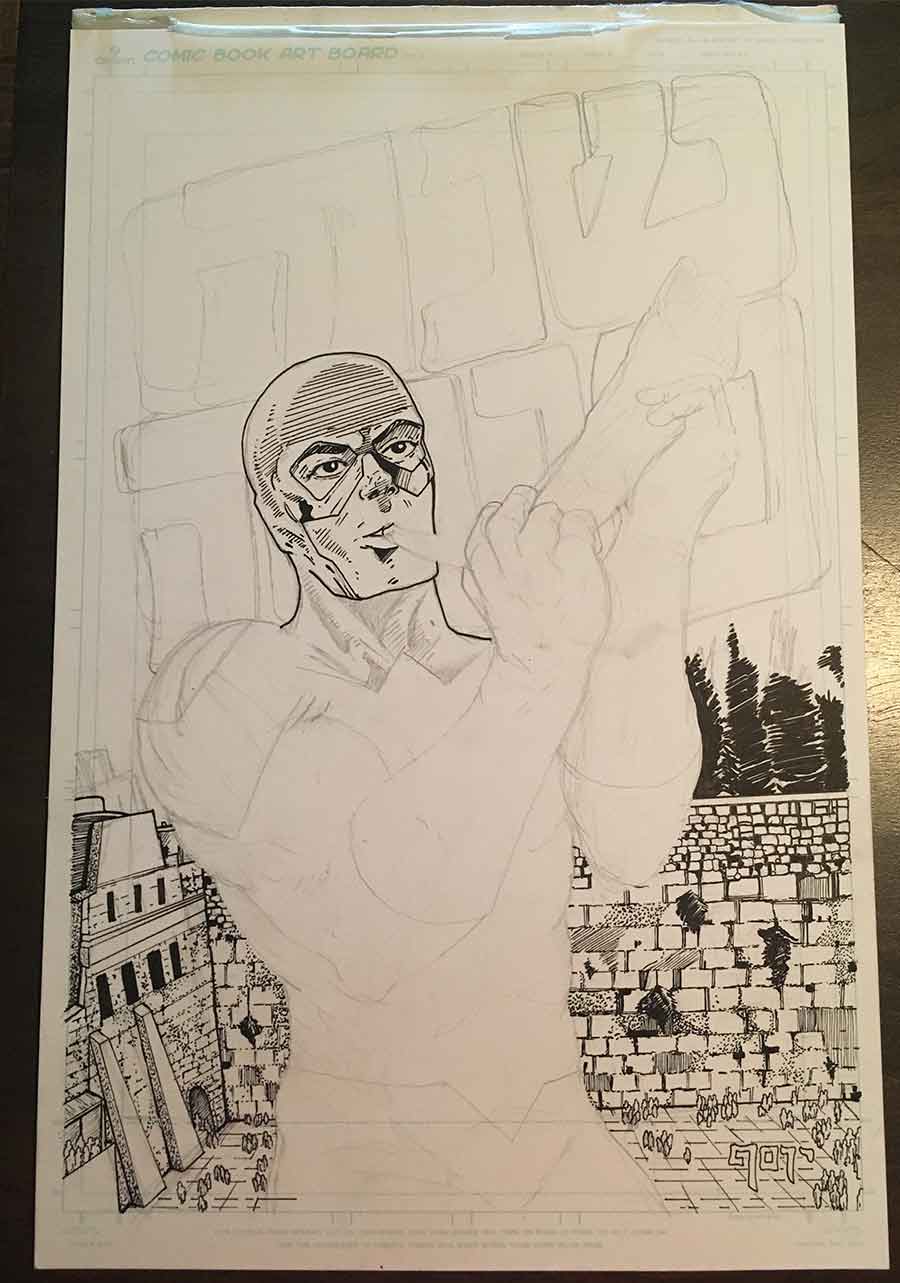 I knew in the concept that I wanted Magen blowing the Shofar. The shofar is a universal symbol in Judaism for the New Year. It also refers to the longevity of our ancient religion and beliefs. The shofar is a simple rams horn, a light weight devise used by common person thousands of years ago. Despite its humble size, the shofar has been featured in some of the most profound events from our history including the revelation at Mount Sinai and the Battle of Jericho. It is one of the longest surviving customs of Judaism that has remained unchanged throughout the millennia.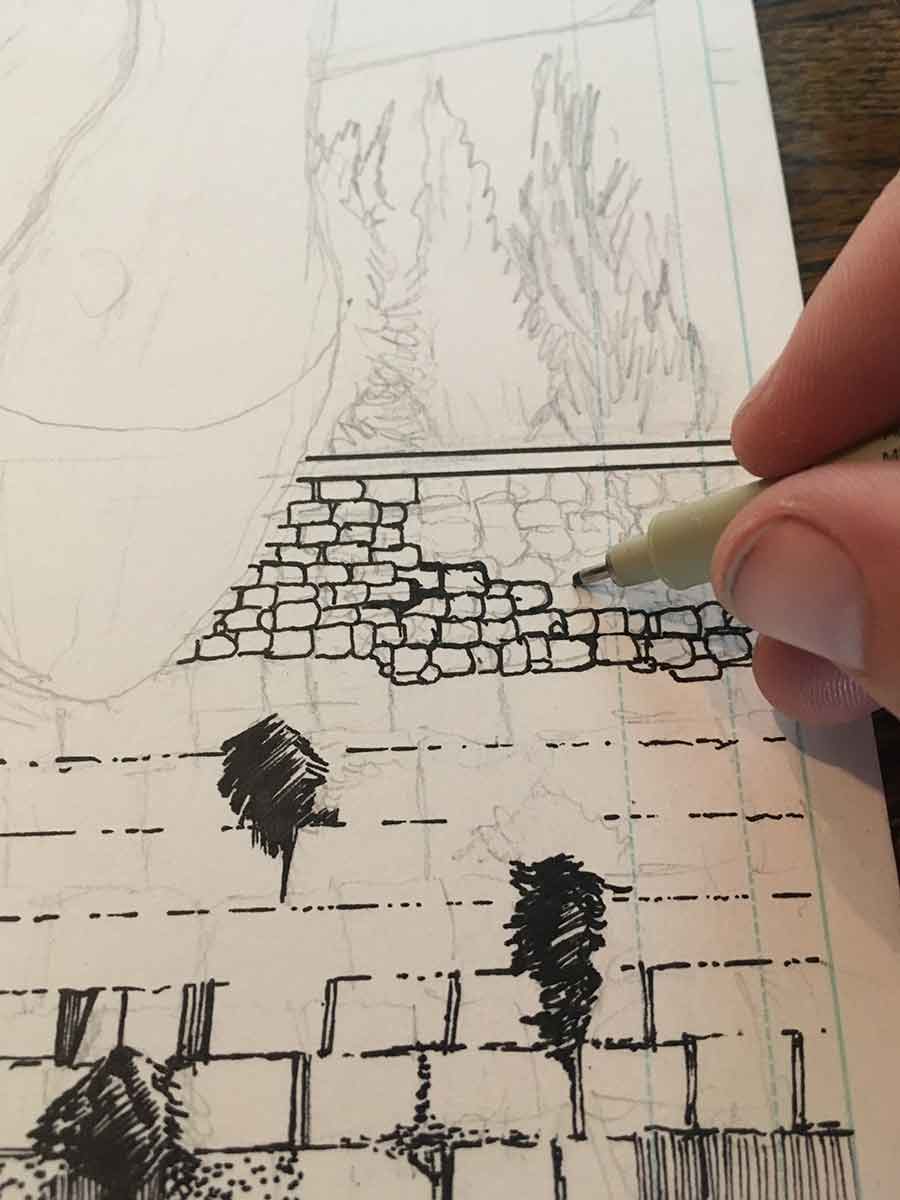 The Western Wall in Jerusalem was also chosen for both its connection as the holiest place in Judaism, but also for its political context. This past year the United States finally recognized Jerusalem as the eternal capital of Israel and the Jewish people. Jerusalem has always been considered the capital by Israel. It is where the Knesset Assembly takes place as well as the Supreme Court. Many previous US administrations had always promised to move the US embassy to the capital, and finally this promise was realized. Many countries have followed suite since the US's declaration, which has helped to bolster the legitimacy and image of Israel in the face of increasing Anti-Zionism in Europe.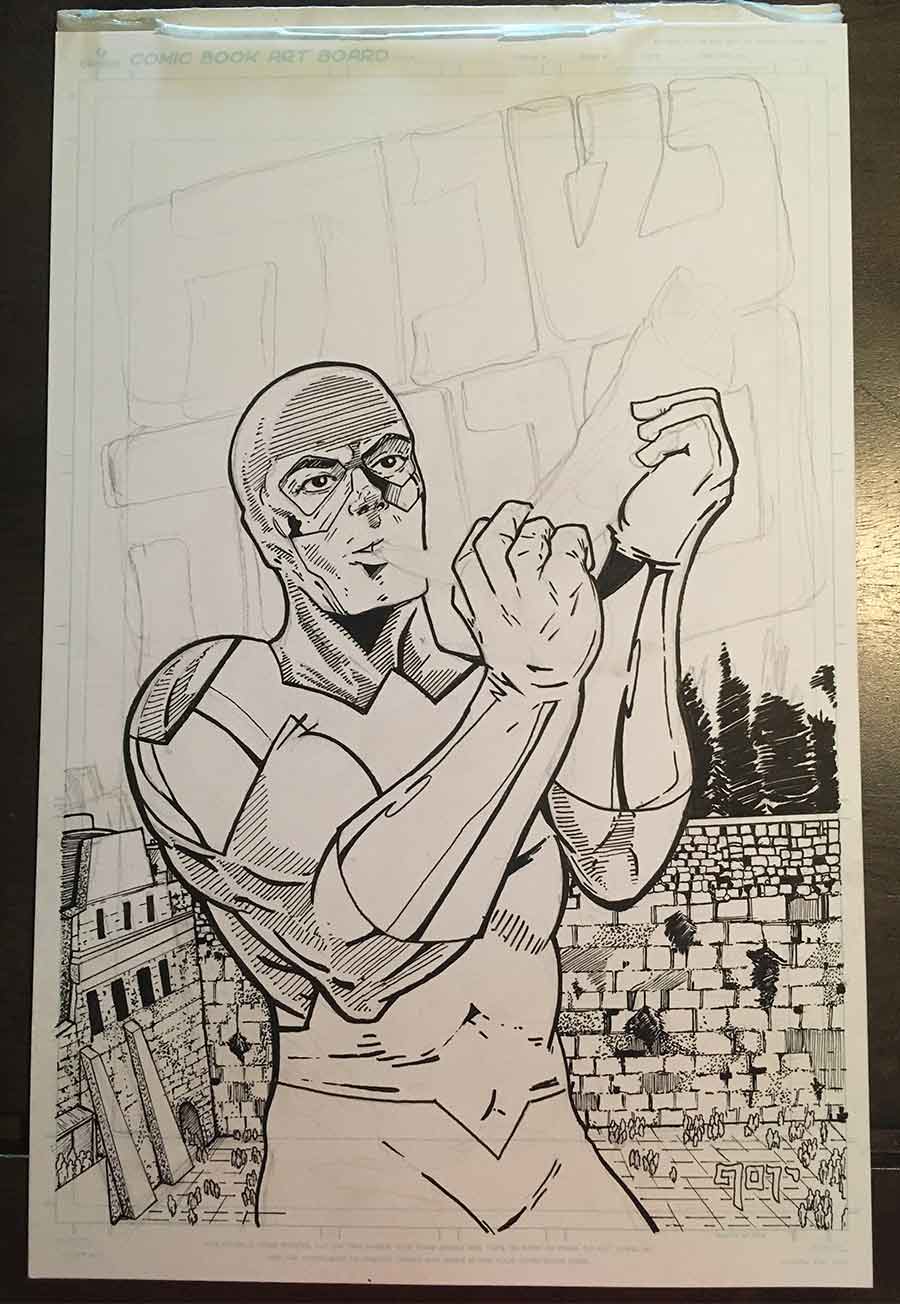 I had originally planned to incorporate the image of the Western Wall within the bubble lettering of "Shanah Tovah" similar to travel postcards of the 1940's. Instead, I realized I could incorporate more detail if I used the Western Wall as the backdrop setting. In the final illustration, "Shanah Tovah" is simply outlined to juxtapose the detail of the Jerusalem scene below.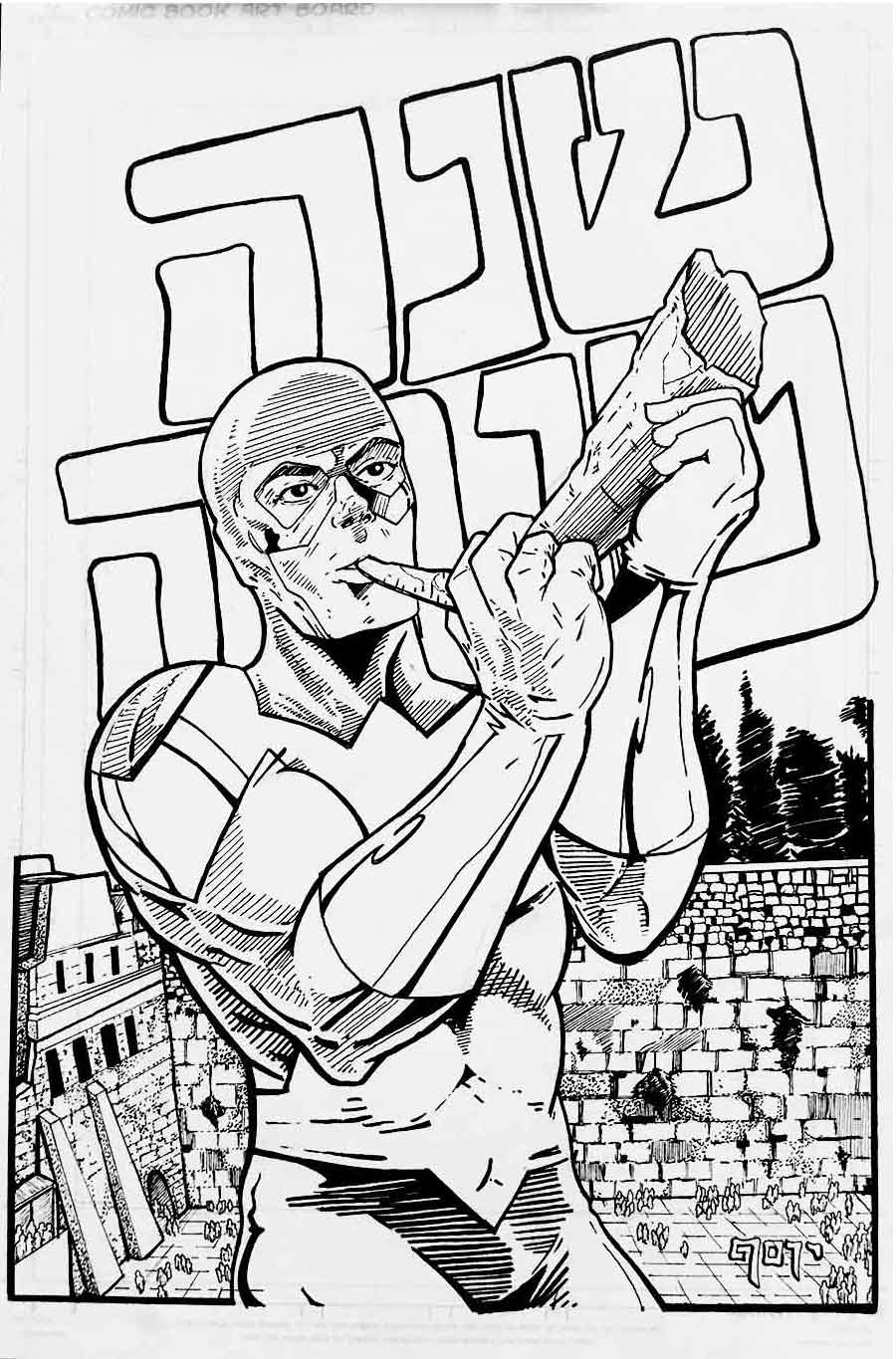 In the final illustration, the scene of Magen blowing the Shofar is shown in full detail, even obscuring the holiday greeting. This was done to emphasize the act of blowing the Shofar, as the ultimate expression of our history and faith.
The Original Artwork is one-of-a-kind piece of comic artwork is available now for purchase. The piece measures 11″x17″ on Comic Art Board. Comes with a Certificate of Authenticity COA. CLICK HERE FOR DETAILS