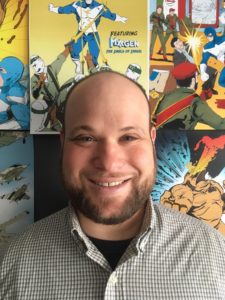 Joshua H. Stulman is the creator and artist for Israeli Defense Comics, featuring the Jewish Superhero, Magen: The Shield of Israel.
Stulman is a speaker on the topic of "Jewish History of the Comic Book Industry" and publishes a weekly blog on current events in comics (http://www.brooklyncomicshop.com/blog/).
In 2010, Joshua Stulman co-founded the the Jewish arts gallery, Hadas Gallery, in Brooklyn and served as curator until 2014. Among the over 25 exhibitions produced, Stulman organized the "Super-Jews" exhibition which highlighted the history of Jewish Super Heroes in Comics.
Stulman, as Israeli Defense Comics, helped sponsor the first annual Jewish Comic Con in Brooklyn in 2017. He also served as co-curator for "Pow!!! Jewish Comic Art and Influence" exhibition in Brooklyn, NY in 2018.
Stulman's artwork has been featured in the Jerusalem Post. A short story by Joshua H. Stulman was featured in Alternate History's Jewish Comix Anthology Vol. 1 (2014). Stulman has appeared at Boston Comic Con, Baltimore Comic Con, and Wizard World Philadelphia.
CONTACT: info@israelidefensecomics.com
Mailing Address:
Israeli Defense Comics
Box 380141
Brooklyn, NY 11238